Since cooking is a daily activity for most people, having the best appliances that will make it easier and enjoyable is a must. One of these must-have appliances is an induction hob.
Induction hobs are a very popular choice in the UK due to their convenience. They heat your pan directly instead of heating the hob ring. The magnetic field that is underneath the surface activates once you turn your induction hob on which results in a much quicker and easier way to cook your food.
To save you from spending an eternity trying to find the perfect one on your own, we're here to provide you with all the info you need! Once you see our list of the best induction hobs to revolutionize your cooking and our buying guide, you'll be able to shop for your induction hob like a pro! The best part is that gathering all the essential info will take almost no time at all!
Best Induction Hobs – Our Top Picks
1. Aobosi Induction Hob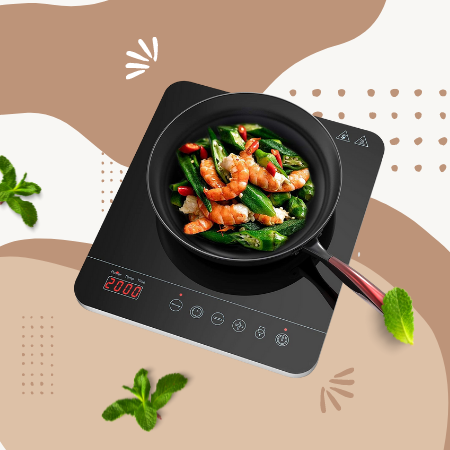 We'll begin with Aobosi portable induction hob. This induction hob features a sleek and portable design that allows you to use it for both at-home cooking and various outside cooking activities, such as making food when camping. The hob is lightweight and compact, so packing it in your bag and bringing it along on any journey would be super easy.
What's great about this induction hob is that it has sensor touch control that allows you to set the temperature anywhere from 60°C to 240°C. With electromagnetic cooking technology, you can look forward to saving both time and money. The reason behind this is that this technology allows the heat to evenly distribute in record time, all without consuming large amounts of energy. That way, you can cook your food quickly and forget about breaking your bank when your energy bills come.
Pros
Portable
Sensor touch control
Compact
2. Noxton Induction Hob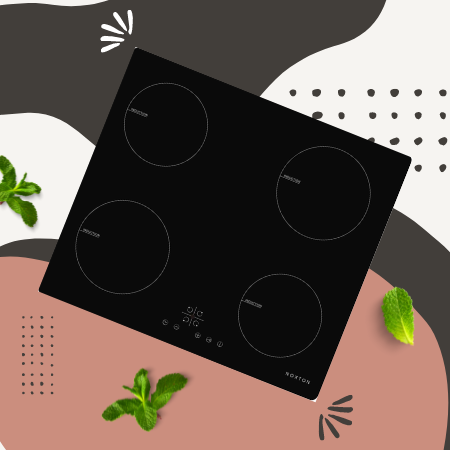 The next one on our list is the Noxton induction hub that's an excellent choice if you're looking for an induction hob that provides a cool design and also a variety of safety features. If you have kids, you can forget about stressing about them getting hurt when playing around the kitchen. Here's a list of safety features this induction hob provides:
Child safe lock
Timer key
Heater indicator
Round edges (no sharp corners)
Boost function
The polished glass design of this induction hob makes it look both elegant and classic, but that's not all. It also makes the induction hob more durable and lasts longer.
With four high-power burners and an independent touch control panel, you can expect this hob to heat up evenly in a snap and be as energy-efficient as possible. What makes cooking with this induction hob extremely easy and enjoyable are the 9 power level settings that allow you to swift and accurate temperature changes with a touch of a button.
Pros
Various safety features
Great design
Four burners
3. Aobosi Double Induction Hob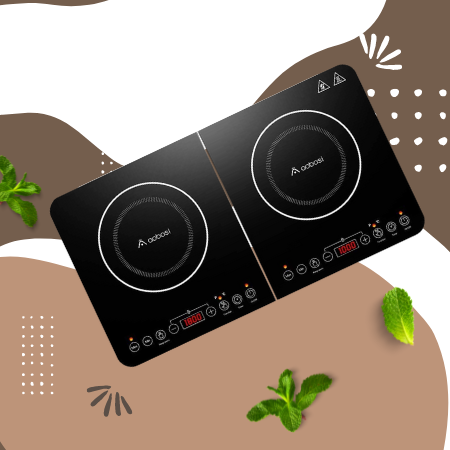 Are you searching for a double induction hob that you can use to cook more than one meal at a time? Aobosi double induction hob is the perfect choice for you!
This hob features two independent heating zones that let you set each one separately using the LCD display screen. Since there are 10 temperature levels available, you can set the temperature anywhere from 60℃ to 240℃. The left burner has a maximum power of 1800 Watts, and the right one has a max power of 1000 Watts. There is also a 4-hour timer that you can set up to turn the hob off automatically once your cooking is over.
The design of this induction hob is very appealing, but it is also quite durable and scratch-resistant. Cleaning this black ceramic glass induction hob is a piece of cake as well, so you can look forward to saving both time and effort when it comes to maintaining your hob!
Pros
Two heating zones
Timer
Durable
4. Singlehomie Induction Hob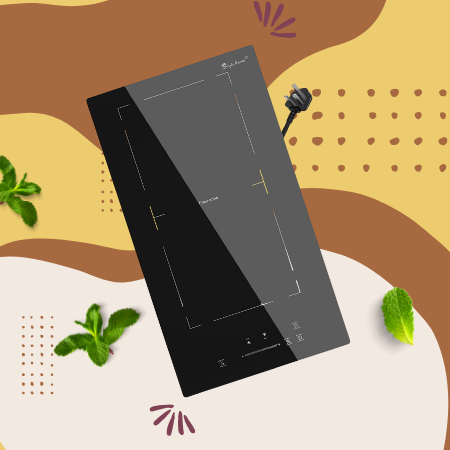 If the previous double induction hob doesn't do it for you, perhaps the Singlehomie induction hob does. This is another one of the induction hubs featuring two cooking zones, so you can rest assured making more than one dish at a time will be a smooth-sailing experience! The installation of this hob is super easy as well—all you need to do is plug it directly into a standard 13 Amp socket with no need for a hardwired connection.
Although there are two burners that you can use independently, that is not the only way to use them. You can also combine the two into one big burner for griddle BBQ use. With the 9 heat level settings, you can change the temperature easily with a click of a button. The best thing about this induction hob is that it features a variety of safety features, including overheating protection, auto shut-off protection, and child lock function.
Pros
Easy to install
9 heat level settings
Variety of safety features
Cons
Automatically turns off with any drop of liquid
5. Hobsir Induction Hob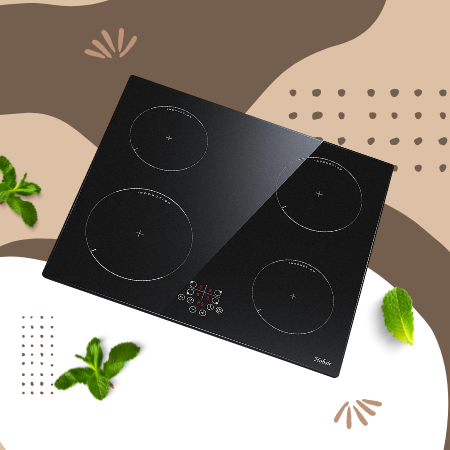 The last induction hob on our list is the Hobsir four-burner one. With an independent touch control panel, this induction hob proves extremely convenient since it heats up faster and is energy-efficient. It's made of Vitro ceramic glass, which makes it super easy to clean and maintain as well. You will have great control over the cooking temperature with 9 power levels and the powerful 6.4kW.
This induction hob also features the Stop&Go function that allows you to stop all cooking functions at once with a touch of a button. This can be helpful if you ever need to leave your hob unattended for a short period of time—your food won't burn or overcook.
Pros
Four burners
Easy to maintain
Stop&Go function
Buying Guide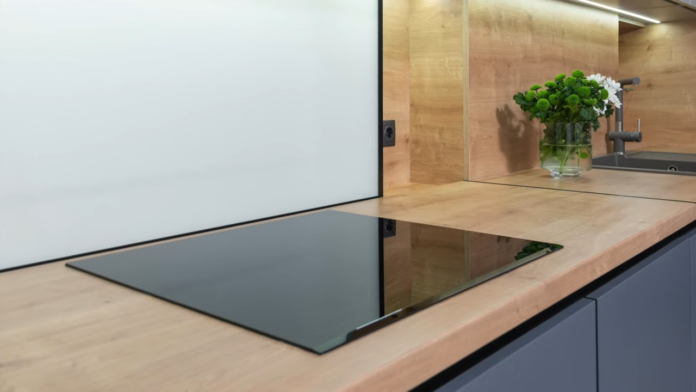 Before you decide what induction hob would be best for you and your needs and make your final purchase, you should do some research. Doing this research will help you avoid buying something that won't satisfy your needs entirely, but it will also help you identify the best product in as little time as possible.
Since we are aware that doing any type of research is usually time-consuming and frustrating, we jump to your rescue! With our streamlined and completely straightforward buying guide, you'll have all the info about what you should factor in when choosing your induction hob in Great Britain at your fingertips! Take a look at the list below to see what factors you should consider when choosing the best induction hob to revolutionize your cooking:
1. Speed
Induction hobs, in general, heat up much quicker than gas hobs. Although almost any induction hob will prove more efficient than a gas one, you should still pay attention to how fast the model you're thinking of buying can heat up.
Depending on the brand and the model in question, there will be various different features related to speed/heat control. Your best bet is to look at the product description of the induction hob you want to purchase and to make sure it provides you with the best features on the market that satisfy your needs.
2. Control
The next one on our list of factors you should consider before purchasing your induction hob is the control. This one is important because being able to control the temperature when cooking will help you avoid any stress and prepare perfect meals that won't be overcooked or undercooked.
When deciding what induction hob to get, make sure to look for an increased number of power levels, memory, and timer functions. You should be able to find this info easily when checking product descriptions and/or customer reviews.
3. Energy Efficiency
If you don't want your energy bills to be enormous, you need to be careful what kind of induction hob you get. That is why making sure the induction hob you're looking to purchase is energy-efficient is extremely important. By buying an energy-efficient induction hob, you won't only save money and avoid breaking your bank when paying bills, but you will also make the most environmentally-friendly choice.
4. Safety
Are you someone who has kids and is worried that they might get hurt when running around and playing in the kitchen? Then buying a new induction hob is probably a difficult task for you. The good news is that you don't need to stress! There is no shortage of induction hobs out there that provide you with a variety of safety features.
These features will help you have some peace of mind and save your kids from any potential injuries that might occur. All you need to do is make sure the induction hob you decide to get is designed with the safety features, such as a child-safe lock and overheating protection.
5. Size
The size of your induction hob is important for more than one reason. Firstly, if you want to use it for more than just at-home cooking, you need to make sure it's compact and portable. That way, you will be able to bring it with you whenever and wherever you want.
Secondly, you should consider where you want to place your induction hob and choose the right size according to that. You don't want to get one that is too big or too small to fit into the space you intended for it.
Lastly, if you live alone, you might want to consider getting a smaller induction hob due to the fact you likely won't need the four-burner one to cook for only one person. However, if you cook for your entire family and you plan on making multiple meals a day, getting a bigger one can prove as a better option.
6. Design
The design of your induction hob isn't the most important factor to consider, but it is definitely not the least important one either. Although making sure that the speed, control, and safety are in line with your needs, once you check all of those boxes, you should also ensure that the design is sleek and convenient. Apart from looking good and aesthetically pleasing, it is also important to be easy to maintain. No one wants an induction hob that will take hours to clean.
Making sure it's easy to install is also a relevant factor. If you don't want to spend money on calling a professional to do it for you, you should find an induction hob that you'll be able to easily install on your own.
Read also: 10 Best 50cm Gas Cooker With Lid
FAQ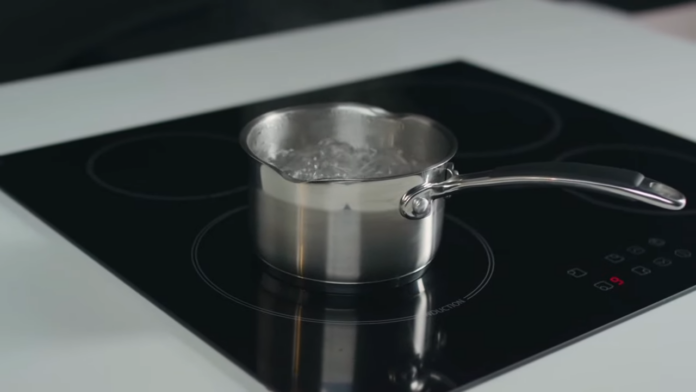 1. Can I Use a Normal Pan on My Induction Hob?
The short answer to this question is yes, you can use almost any pan on your induction hob. Most of the pans nowadays are made of magnetic materials like cast iron, steel, and magnetic steel, so they are safe to use on your induction hob at any time.
2. Is an Induction Hob Better Than a Gas One?
Induction hobs are more efficient than gas ones because they use all the heat that is generated. They also help you cook at a faster speed which helps save energy over time. Whether you should get an induction hob or a gas one usually depends on your needs and your cooking preferences, but induction hobs are generally a better and more convenient option.
3. Does an Induction Hob Use More Electricity?
No, induction hobs do not use more electricity. In fact, induction hobs are generally more energy-efficient than both gas hobs and electric cooktops.
Conclusion
Purchasing a new induction hob in England can often prove challenging. You have to make sure that the one you choose has all the features you need and meets all of the requirements. Luckily, once you read our article and our buying guide, you'll have all the info you need to identify the best induction hob in a matter of minutes! Forget about wasting time and effort, and start shopping like a pro right away!
If these weren't enough, check out some other picks from Amazon also: